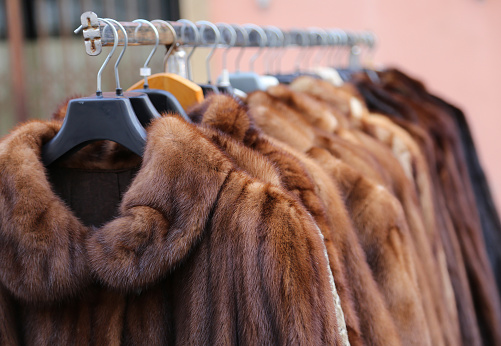 The founder of Adriana Furs, an internationally renowned retailer of fur products, Sohrab Tebyanian ensures that his company maintains the Convention of International Trade and Endangered Species standards when doing business. Under Sohrab Tebyanian's leadership, Andriana Furs in Chicago continues to be a trendsetter in both classic and contemporary fur products such as mink coats.
Fur coats need extra attention, and you should not attempt to wash them at home lest you cause permanent damage. A professional furrier should clean a fur coat.
If you unexpectedly get caught in snow or light rain, shake out the fur coat to remove as much moisture as possible, then hang it in a well-ventilated room to dry. Never use a clothes dryer, blow-dryer, or direct heat on the item. Once it's dry, don't brush or comb; shake to fluff the fur or use your hand to smooth the fur.
Inadequate or poor storage can result in flattened fur. At home, keep the fur coat covered with breathable material, preferably in your closet. Don't use a plastic bag as it can get very hot and destroy the natural furs.
During warm weather or the summer season, always store your fur items with your furrier and not at a dry cleaner. Furriers are equipped with light-, humidity-, and temperature-controlled storage facilities suitable for fur products.